Bodhi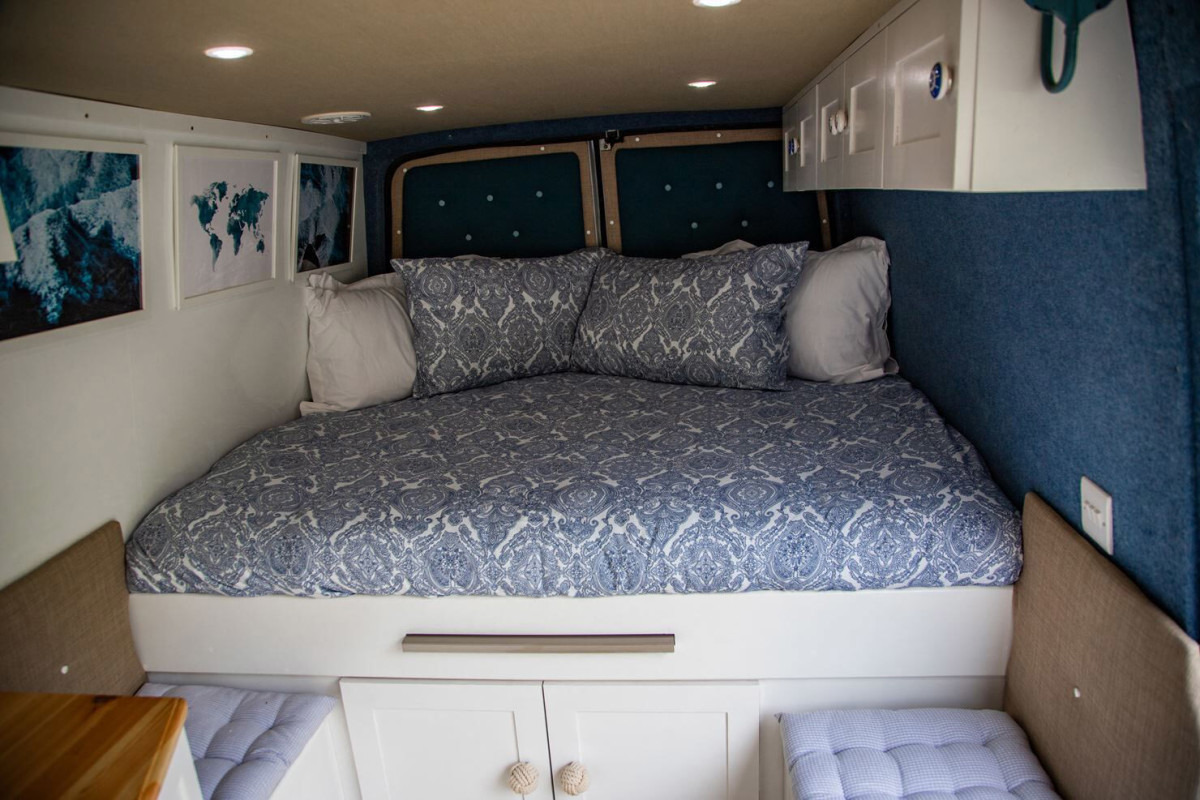 Abergavenny
3 Belted seats 2 Adult beds
Bodhi is a stunner of a campervan with a crisp blue and white decor giving a clean and classy feel. This South-Wales based camper is the perfect base for getting out and about and exploring the beautiful Welsh countryside. With lots of internal storage, as well as a comfy fixed rear bed with more storage space underneath, Bodhi is a super roomy space to chill out at the end of the day, maybe settling down to a cosy night's dining, playing games or sheltering from the elements with a hot toddy. If you want to go 'off-grid' Bodhi is equipped with two leisure batteries. Comfortable and modern on the inside, she is stealthy from the outside, with low profile vents on the roof and a tinted side window. Whether you are hiring Bodhi for a romantic weekend or a longer adventure, this dog-friendly campervan hire will take you to your destination in easy-going style, providing you with an unforgettable experience and will leave you wanting more.
Essential Information
Hob
Heater
Dining Table
Kitchen Sink
Tow Bar
Extra Storage
CD Player
Audio Inputs
Radio
Inverter
Pet Friendly
Water Tank Capacity: &nbsp20 litres
About the Campervan
Description of Beds: Bodhi has a Double fixed bed with memory foam mattress. (standard minus 10cms in length) which accommodates 2 adults. The fixed comfy double bed means 'faff-free' bed-making, perfect when you are keen to move on next morning to your next adventure. Just fluff the duvet and away you go!

Description of Seating: 3 seats in front cab. Driver's seat plus a double seat for 2 passengers. There is sociable seating for up to 2 people inside Bodhi.

About the area:Bodhi is perfect for exploring the Brecon Beacons, a beautiful region of Wales. The land of history, mystery and mythology. Enjoy the stunning valleys, waterfalls, lakes and mountains, including Pen Y Fan, the highest mountain in south Wales. If you wish to travel further afield, Bodhi is ready and waiting for your next adventure! Bodhi resides in Gilwern, a village just outside of Abergavenny, 'The Gateway to The Brecon Beacons National Park'. Abergavenny train station is a short taxi ride, around 4 miles away. We are easily accessible via the M4 and A40.

Parking: Parking is available. If you are coming by car you are welcome to park where Bodhi is usually parked. Please note that parking is at your own risk.

Cooking Equipment: Her modern kitchenette has a 2-hob burner. Cooking equipment includes: 2 plates
2 bowls | 2 mugs | 2 wine glasses | 2 drinking glasses | 1 jug | 3 forks | 3 table knifes | 3 table spoons | 3 teaspoons | 2 steak knifes | 1 serrated knife | 1 chefs knife | 1 whisk | 2 chopping boards | 1 peeler | 1 tin opener | 1 grater | 2 wooden spoons | 1 set of salad/serving spoons | 1 salad/serving bowl | colander | 2 saucepans | 1 frying pan | 1 stove top kettle | 1 small cafetiere | 2 tea towels | 2 place mats with 2 coasters | Basic spices and condiments

Water Facilities: Water is provided by a cold water tap with electric pump. 2 x 20 litre water containers. One supplies the tap, the second is for spare.

Audio Equipment: Radio and CD player in the cab with AUX port and cable to connect smartphone.

Type of Heating: Bodhi is designed as an all seasons campervan with a super-efficient diesel heater to keep you toasty warm on those cooler evenings.

Conversion Story:'Wow!' is the reaction we hear most from people seeing Bodhi's interior for the first time, but we can't take the credit for that. Bodhi was designed and expertly converted from a well looked after workman's van to our incredible camper in early 2019 by the previous owner's carpenter father. She is a RWD long-wheelbase Ford Transit mid-top, bright, airy and practical, providing a feeling of cosy contentment, whilst exploring and enjoying the simple things in life. The design is inspired by a mixture of coastal tranquillity and Scandinavian simplicity, with upholstered panels and features throughout.

We are Dee and Don, Bodhi's proud new owners. We had 'retired' from camping in a tent and was looking for something more comfortable, weather-resistant and easy to use. In 2019 we were introduced to Quirky Campers. As soon as we scrolled through the website we were taken with the 'quirkiness' and individuality of designs. We hired a couple of campervans over the summer to try the lifestyle and the van scene.

We caught the bug and decided we would buy our own van and have it converted to our own quirky spec. During the ideas stage, Bodhi came up for sale, she fitted our 'vision' board perfectly and we made an immediate decision to buy. As Bodhi was already registered with Quirky Campers, we decided to continue hiring her out so that others can enjoy her as much as we do. Maybe she will also inspire others to follow their dream!
When would you like to go?
Sorry, there was a problem...
Vehicle Spec
Vehicle Type: camper-van
Make: Ford
Model: Transit
Year: 2009
Vehicle Length: 6 metres
Vehicle Height: 2.54 metres
Max Laden Weight (MAM): 3500 kg
Payload: 860 kg
Transmission: manual
Fuel Type: diesel
Registration: emailed when you book
Note: The hire of this vehicle is arranged by Quirky Campers ltd acting as the agent on behalf of Bodhi's owners. We make every effort to ensure that all the vehicles listed with us are of a high standard but cannot guarantee the condition of the vehicle. If you experience any problems please notify us as soon as possible.