Shakti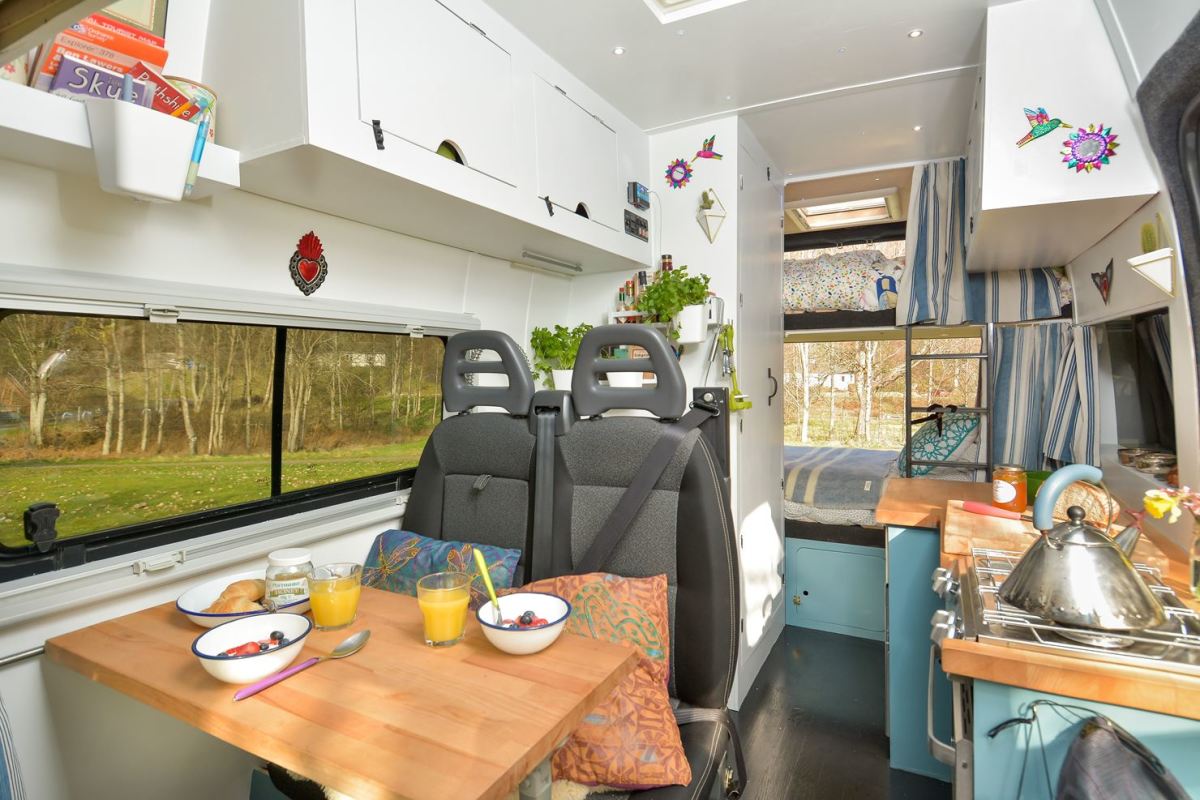 Perth and Kinross
4 Belted seats 2 Adult beds 2 Child beds
Shakti is a beautiful Scottish campervan whose bright, spacious interior provides an awesome living space for a family of 4 to enjoy an epic camper van holiday. Her 2 fixed double beds mean there is no faffing around at night; you can simply fall into them after a day out exploring the Scottish wilderness. Her solar power means she will be charging your wild camping Scottish adventure, whilst her awesome built in shower and toilet means you can easily wash the mud off you (or your dog) if you've had an all-weather exploration! Her kitchen is incredibly well-equipped, with two hobs for cooking, oven, grill, sink with running hot water and a travel fridge. We love the total practicality of this gorgeous Highland lass, and we think you will, too!
Essential Information
Hob
Heater
Oven
Refrigerator
Kitchen Sink
Inside Shower
Toilet
Ceiling Fan
Awning
Tow Bar
Solar
Reversing Camera
Extra Storage
CD Player
Radio
Inverter
Water Tank Capacity: &nbsp70 litres
About the Campervan
Description of Beds:Shakti has a 2 double beds in the form of bunk beds. Top bunk length is: 170cm width 120cm, Bottom bunk length is: 186cm width 120cm which accommodates 2 adults and 2 children.

Description of Seating: 2 captain swivel seats in the front, 2 standard forward facing belted seats in the back. There is sociable seating for up to 8 people inside Shakti and there are 4 portable seats included in the hire for use outside.

About the area: Shakti lives in Highland Perthshire an area of outstanding beauty she is located in heart of Scotland. Centrally located, she is around a 90 minute drive from international airports in Glasgow, Edinburgh and Dundee, and is perfectly located to explore Scotland; from these cultural cities to national parks, loch Lomond or the isle of Mull or beyond.

Parking: Off street parking - You can leave your car on our land while go off on your adventure.

Cooking Equipment: 6 plates | 6 bowls | 8 side plates | 6 bamboo kids cups | 4 glasses | 5 mugs | 2 espresso cups | 1 tea pot | 1 milk frother | Coffeepot | 3 pots, S/M/L | 1 large frying pan | Colander | 2 cooking bowls | Cheese grater | Salad spinner | Enamel baking dish | Stainless steel Indian stacking tiffin tins | Cutlery for 6 | Tin opener | Knife set (5) | 2 wooden spoons | large serving spoon | Spatula | Soup Ladle | Potato masher | Wine opener | Bottle opener | Potato peeler | 2 tin storage tins | 2 bamboo storage containers | Stainless steel pedal bin | Sweeping brush

Water Facilities: 70 ltr internal tank powered by eletric pump

Audio Equipment: USB Points through out van. speakers in cabin which can be used without using the engine

Type of Heating: Diesel Heater

Conversion Story: Shakti is the realisation of a dream, we looked for many months for a van which had low milage, was modern and fast, fuel efficient, drove like a car and big enough to fit everything including the kitchen sink in. It was essential for me to be able to park up and get on with the adventure, minimum fuss and bother for setting up. You literally stop pull out the awning and get the kettle on. The beds are made and cupboards stocked. We wanted a Van that allowed us to weave unforgettable memories with our growing family. To explore the raw stunning scenery of Scotland and beyond, in comfort and style. We have not compromised on any part of this conversion.
When would you like to go?
Sorry, there was a problem...
Vehicle Spec
Vehicle Type: camper-van
Make: Fiat
Model: Ducato Extra LWB
Year: 2015
Vehicle Length: 6.4 metres
Vehicle Height: 2.8 metres
Length with hitch: 6.4 metres
Max Laden Weight (MAM): 3500 kg
Payload: 500 kg
Transmission: manual
Fuel Type: diesel
Fuel Efficiency: 38 mpg
Registration: emailed when you book
Note: The hire of this vehicle is arranged by Quirky Campers ltd acting as the agent on behalf of Shakti's owners. We make every effort to ensure that all the vehicles listed with us are of a high standard but cannot guarantee the condition of the vehicle. If you experience any problems please notify us as soon as possible.