Fran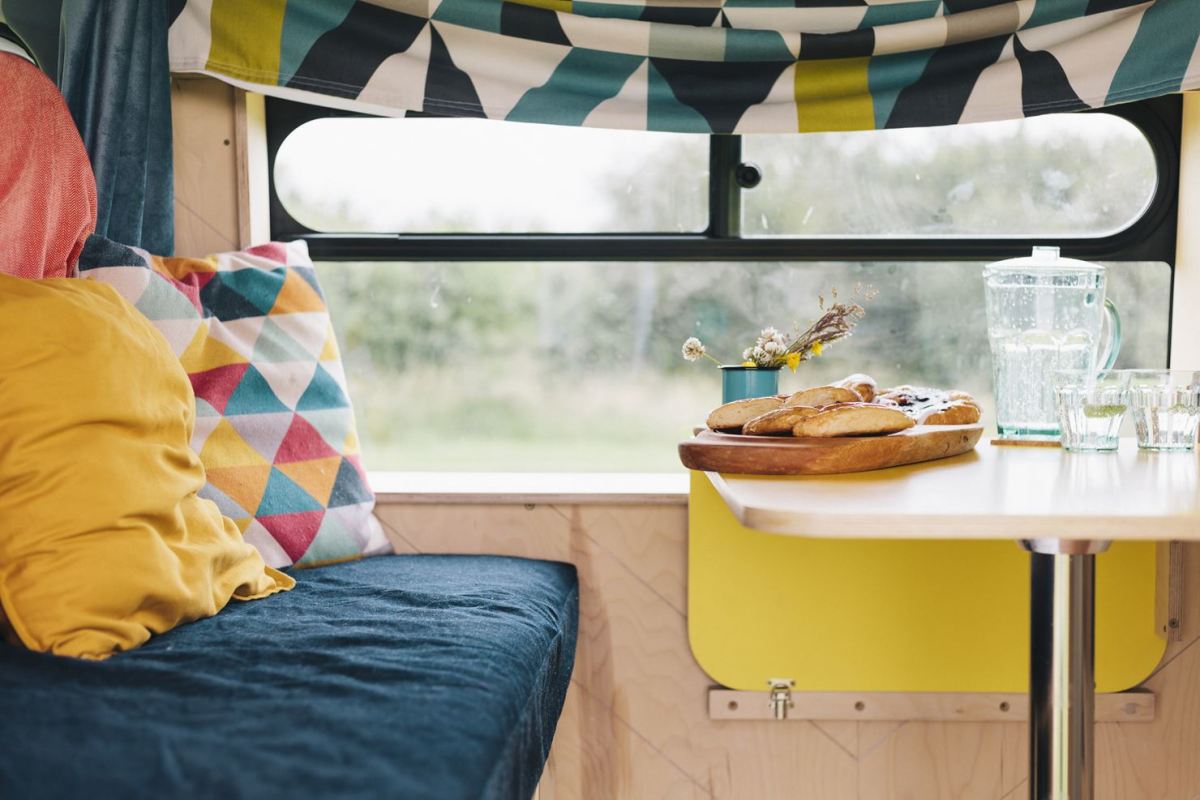 Cardiff
5 Belted seats 3 Adult beds 2 Child beds
Fran is the perfect flexible family camper van. Designed to comfortably sleep 5 people, her configurable space means that you will be able to take the whole brood away on an epic camper van holiday. Based in South Wales, this dog friendly campervan hire Cardiff offers you plenty of space in a beautifully hand-crafted, and well-equipped camper. Fran is definitely a little bit of Scandinavia in a van; this clean, crisp and cheery campervan has been really well thought out and full of clever storage. There are cupboards under the bench, and lots of shelves with bungee cord to fit clothes, books, food, games etc. on the walls. There are also cupboards under the kitchen, which has a two-burner hob, cool box fridge, and all the pots and pans you need to feed a family of 5! She's got a functional attitude; everything has a purpose and a place. But, she's also extremely stylish and cosy. Whether it's reading on the back sofa looking out over the Brecon Beacons, sitting around the bright yellow table eating breakfast you cannot help but have a cosy time and an amazing road trip in Fran.
Essential Information
Hob
Heater
Refrigerator
Kitchen Sink
Solar
Extra Storage
Pet Friendly
About the Campervan
Description of Beds: Fran can sleep 5 people very cosily! The seating area and table converts easily into a comfy double bed. Then, you can choose to set up the back of the camper van as 1, 2 or 3 bunks for children, an extra sofa looking out of or in to the van, a closed boot accessible from the back or a large open boot for surf boards, mountain bikes, hiking and climbing gear or inflatable kayaks! The bunk beds were designed for children but the top and middle one can take the weight of petite adults. The dimensions are as follows: Top: 150cm x 62cm Middle: 168cm x 62cm Bottom: 132 x 52cm Please let us know which bunks you'd like set up. Blankets are included with Fran and you can add duvets, sheets and pillows in extras.

Description of Seating: Three belted seats up front and two forward facing at the back. All seat belts are 3 point and all passenger seats can take a child car seat using the belts.

About the area: Fran lives outside her owners house on their drive in Llandaff North, Cardiff.

Parking: Off street parking.

Cooking Equipment: Fran comes with a fully functioning kitchen - you'll be able to whip up a feast for 5 easily! There are two hobs, a sink with running cold water, a Kilner water jar for 5l drinking water, spices, oil, teas - even a compost bin.

Here is a list of what's on Fran's shelves: plates | bowls | cutlery | cups for 5 | children's cutlery and cups for 3 | 1 x large, 1 x small and 1 x frying pan | bottle opener | peeler | scissors | cooking utensils | ladle | serving spoon | spatula | wooden spoons etc. | chopping board | sharp knives and bread knife | large salad bowl | colander | stove top kettle with a whistle | mocha coffee pot | flask | tupperware for picnics | tea towels | cork place mats

Water Facilities: A sink with cold running water attached to 13L portable container and a 5L glass Kilner clip top drinks dispenser.

Type of Heating: Diesel Heater

Conversion Story: Fran started life as a Ministry of Defence crew van, presumably pottering around the hills of Wales as when we found her she was still gleaming white with very low mileage. Fran isn't enormous, we wanted to be able to drive easily through winding rabbit warren roads, but we also needed to fit 5 of us comfortably. After a to-scale shoe box model, an impromptu workshop around our table with Quirky Camper's David and Lindsay and a bottle of gin we came up with a design. Next stop Tom (of Tom Stone Woodwork), our Bristol buddy who is a magician with wood. Tom created a very beautiful space, that feels light and airy and roomy enough for 5. There are lots of hidden nooks, hooks and clips that mean Fran has 5 different configurations, depending on who and what is travelling. Rob (of RG Camper Conversions) usually does shiny VWs but was up for the challenge of putting Fran's electrics, solar panel and gas stove in, thankfully. 
Em sewed and sewed and drove Fran (and little Freya, our smallest) between Bristol and Cardiff over 6 months until she was ready for our first trip near Cardigan, West Wales. It was a wonderful week. And a little crazy. For me, there is nothing quite like sitting at Fran's yellow table, the five of us eating a rather early breakfast, looking out over beautiful rolling hills. We are plotting a big trip in Fran in the future but for now look forward to sharing her with you.
When would you like to go?
Sorry, there was a problem...
Vehicle Spec
Vehicle Type: camper-van
Make: Ford
Model: Transit
Year: 2011
Vehicle Length: 3.3 metres
Vehicle Height: 1.88 metres
Max Laden Weight (MAM): 3500 kg
Registration: emailed when you book
Note: The hire of this vehicle is arranged by Quirky Campers ltd acting as the agent on behalf of Fran's owners. We make every effort to ensure that all the vehicles listed with us are of a high standard but cannot guarantee the condition of the vehicle. If you experience any problems please notify us as soon as possible.