Evie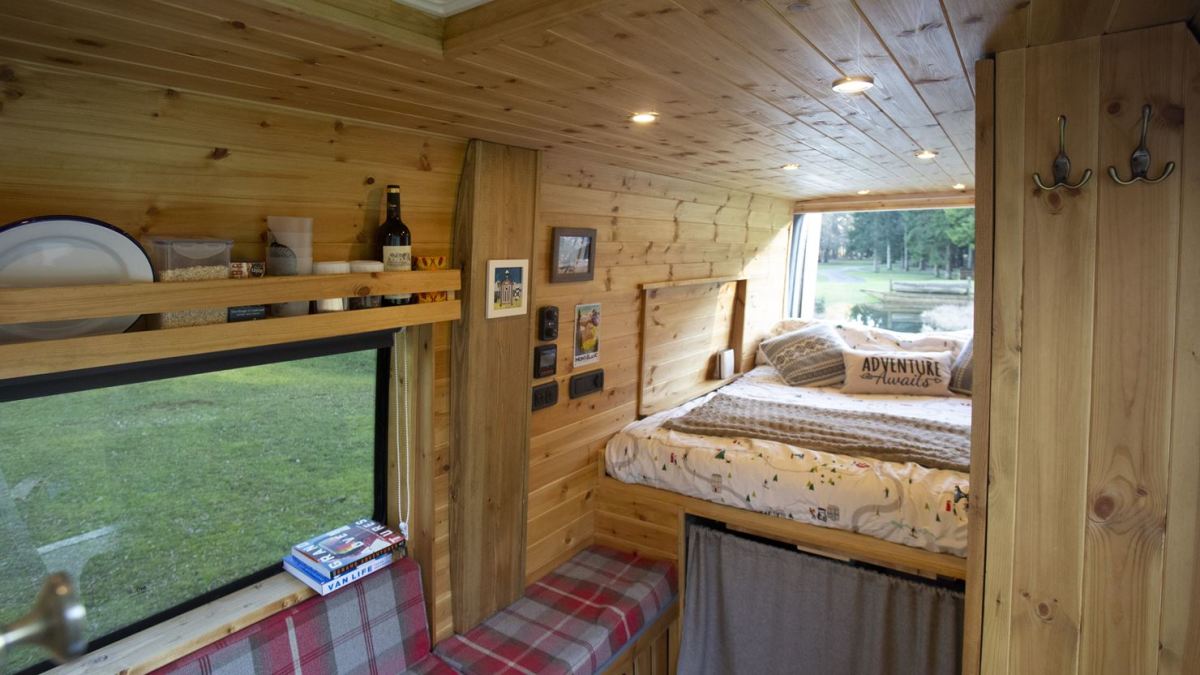 Henley on Thames
3 Belted seats 2 Adult beds
Evie is your perfect Alpine inspired chalet getaway. The 4-season camper has been beautifully hand-crafted to provide a really homely living space that also totally delivers as a super practical adventure camper as well. With home comforts like heating, sectional lighting, ceiling vent fan, a 3-burner hob and fridge Evie is the perfect choice for a cold weather ski excursion or a Summer beach break. Relax on the bed and admire the view having wrapped up your day with a hot chocolate courtesy of Evie's kitsch whistling kettle, or chill out with a book on the beautifully upholstered bench seating; you can make your campervan holiday whatever you desire. Centrally located in Henley on Thames: North, South, East or West - you decide. Cosy, cute and romantic: in Evie, your next adventure awaits.
Essential Information
Hob
Heater
Dining Table
Refrigerator
Kitchen Sink
Solar
Extra Storage
King Beds: &nbsp1
Gas Capacity: &nbsp38 litres
Water Tank Capacity: &nbsp80 litres
About the Campervan
Description of Beds: The camper has a king sized (2m long) memory foam mattress. There are no other sleeping areas.

Description of Seating: There is a single driving seat and a double bench seat. The condition is near new on both. I designed the bulk head behind the drivers seat to be specially recessed, to allow tall people to drive easily. To give you an idea, I'm 6ft6 and have no problem at all.

About the area: Evie lives with me near the centre of the beautiful Henley on Thames. It is also worth noting that during Henley Royal Regatta, Evie is located exceptionally close to the river, town and train station making it perfect for competitors, coaches or spectators. Accommodation is scarce during the regatta, so book early!!

Parking: Off street parking

Cooking Equipment: Enamelware 6 cups | 4 plates | 4 bowls | 4 dishes | Whistling kettle | Hob toaster | 1 frying pan with lid | 1 x milk pan | 6 knives, forks, spoons, teaspoons | A variety of spatulas | wooden spoons | ladles | Set of kitchen knives | Tin opener | Bottle opener | Tea towels.

Water Facilities: Evie hosts an 80 litre fresh water tank. This supplies the sink and side mounted shower. The sink has a waste water tank that is approximately 23 litres and will need emptying regularly but is easy to do.

Audio Equipment: The cab has a brand new Kenwood CD stereo, with DAB radio, bluetooth, and an auxiliary port and USB charging. In the accommodation, I can provide a portable Bose speaker for a small charge. This, together with your mobiles, can be recharged easily via the USB points in the accommodation area.

Type of Heating: Evie will keep you toasty and warm, whatever the weather with thermostat controlled space heating.

Conversion Story: Evie was designed primarily to journey to the Alps to enjoy winter sports at my convenience. I have a love for wood (as you will see), skiing and the mountains. So it's little surprise that I dream of owning an Alpine chalet. Since I don't have a couple of million quid lying around to buy one, I thought I would create the next best thing!!! As you may glean from the pictures, I've tried to echo chalet vibes in Evie's decor and soft furnishings, giving you the ultimate Alpine experience, wherever you decide to take her. Evie features a fixed king sized memory foam mattress, making it an ideal couple's getaway vehicle! Every aspect of Evie is hand crafted out of wood. I completed much of the base work in the winter months of 2017/18, working from my back garden. It was tough in the cold and dark but exceptionally rewarding to see the van taking shape. Little by little, over the course of a year, Evie was created. The name Evie was given because I recently became an uncle for the first time, and Evie is the name of my baby Niece. I wish to share my love of natural materials through my creation, and inspire others to do something similar.
When would you like to go?
Sorry, there was a problem...
Vehicle Spec
Vehicle Type: camper-van
Make: Mercedes-Benz
Model: Sprinter
Year: 2008
Vehicle Length: 7 metres
Vehicle Height: 2.8 metres
Max Laden Weight (MAM): 3500 kg
Payload: 340 kg
Transmission: manual
Fuel Type: diesel
Registration: emailed when you book
Note: The hire of this vehicle is arranged by Quirky Campers ltd acting as the agent on behalf of Evie's owners. We make every effort to ensure that all the vehicles listed with us are of a high standard but cannot guarantee the condition of the vehicle. If you experience any problems please notify us as soon as possible.