Eric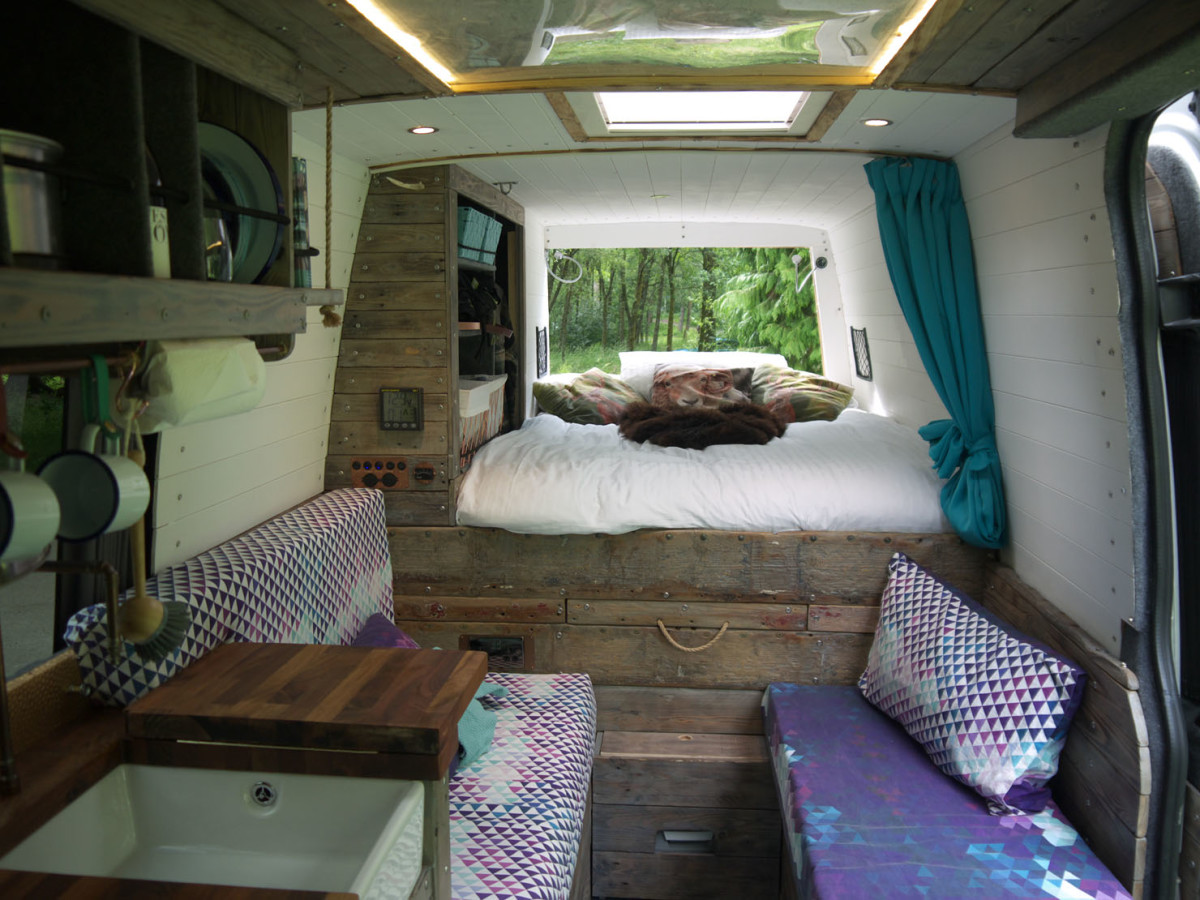 Ayrshire
3 Belted seats 3 Adult beds
Eric is the quintessential rustic, rugged, yet charming quirky camper van. Beautifully and thoughtfully converted; he's the perfect compromise between the luxury of a motorhome and the practicality of a VW Transporter. Plus, he's got style to rival either any of those options! One of the best things about Eric is that he's also pet-friendly. So, whether it's just you and your best four-legged friend on a hiking adventure, or the whole family on an epic Scottish NC500 exploration, this awesome camper van will accommodate every possible need in super practical and stylish ways! Eric's large solar panel and a power inverter means that you don't have to stay on campsites to charge up your gadgets if you don't want to. And, with the beautiful Scottish Highlands beckoning, we wouldn't blame you! Underneath the fixed bed, there is a massive, rubber lined 'wet and dirty' garage area with space for all kinds of camping equipment plus 2-3 bikes, and a dedicated wetsuit / board area with hanger. For those occasions when the Scottish weather isn't playing ball, you'll find a selection of rainy-day games in one of Eric's many storage cupboards.
Essential Information
Hob
Refrigerator
Kitchen Sink
Solar
Extra Storage
Pet Friendly
About the Campervan
Description of Beds: Eric has 1 fixed standard double bed at the rear with a partition curtain to block light in the summer, keep you cosy in the winter, or offer some privacy. The storage box and slide out drawer combine with the 2 bench seats to create a large single bed of 105 x 170cm with comfortable memory foam mattress. All windows have black out curtains or blinds.

Description of Seating: 3 x 3-point belted front seats - the middle seat has no airbag so is suitable for a child seat (not Isofix).

About the area: Based in Kilwinning, Ayrshire, a short train ride from Glasgow Central train station, 10 minutes away from the Isle of Arran ferry, and 1 hour from Loch Lomond, this campervan hire Ayrshire is perfectly located to spirit you away to somewhere truly magical.

Parking: Off street parking

Cooking Equipment: The copper and pallet wood kitchen has a three-burner hob and fridge, as well as all the pots, pans and utensils you could possibly need to cook up a feast. The van has a fully equipped kitchen for 4 people with 4 each of enamel/tin camping plates | bowls, and mugs | large pasta bowls | 4 plastic stemless wine tumblers | 4 forks, knives, spoons, teaspoons |1 set of 3 kitchen knives | 1 bread knife | 4 wooden utensils | 1 pair of large utility scissors | 1 set of 3 stackable pots with lids | 1 frying pan | 1 collapsable colander | 1 chopping board | 1 salt & 1 pepper grinder | 3 x food containers | 2 x dish towels | 1 cloth | 1 scrubber | 1 hand brush and dust pan | 1 small extendable mop | We will also include the following complimentary items: salt & pepper, various spices, biodegradable washing-up liquid & disinfectant/kitchen cleaner, 1 pair of marigolds. We include LPG for cooking in the price of the hire.

Water Facilities: 20l removable water container with 12v electric tap/ 23l removable grey/waste water container - both stored in cupboard under sink.

Audio Equipment: Sony head unit in cab with aux-in - this is ONLY for use while driving as it runs off the vehicle battery. We also provide a superb portable Bose Mini Soundlink speaker with 12v charger for use in the living area or sitting outside the van.

Conversion Story: Eric was the result of a compromise between the luxury of a motorhome and the practicality of a VW Transporter. We knew we needed a reliable engine, full size fixed bed, standing height, and lots of storage for outdoor toys and equipment. Our research led us to the Sprinter LWB, and when we finally found the perfect van it took a 1000 mile round trip to London to collect our ex-electricians van. We brought it back to our home on the Isle of Eriskay and began to lovingly convert it to our perfect van for Hebridean Adventures! We had a rough idea of the layout, features and rustic feel we wanted inside. When I found a section of old boat washed up in a rocky cove on the other side of the island, complete with the original patinated copper rivets, it provided the perfect centrepiece for giving the van a strong Hebridean character and unique finish. The Hebridean feel continues throughout the van - from the copper metalwork representing the autumnal island landscapes, to the blues and greens of the sea in the upholstery, down to the nautical map of the Outer Hebrides on the ceiling. Even the name Eric relates to Eriskay and it's viking connection - it originates from Old Norse meaning Eric's Isle. The complete build was undertaken by ourselves and we used repurposed materials wherever possible; the van was lined with ply and racking when purchased so we reused these to line the garage area and make the furniture framing, and most of the furniture finish is driftwood or pallet wood recovered from sheds and beaches around the Uists. A keen eye may even notice that the back door storage pockets are made of old fishing net. To complete the van build we felt solar was a necessity as we like to be away from busy campsites as much as possible. We do have electrical hook up when required but we've found the addition of 200W of solar on the roof is (usually!) enough to keep the batteries topped up for off-grid camping in the Scottish spring and summer!
When would you like to go?
Sorry, there was a problem...
Vehicle Spec
Vehicle Type: camper-van
Make: Mercedes-Benz
Model: LWB Sprinter
Year: 2011
Vehicle Length: 6.95 metres
Vehicle Height: 3 metres
Max Laden Weight (MAM): 3500 kg
Payload: 360 kg
Transmission: manual
Fuel Type: diesel
Registration: emailed when you book
Note: The hire of this vehicle is arranged by Quirky Campers ltd acting as the agent on behalf of Eric's owners. We make every effort to ensure that all the vehicles listed with us are of a high standard but cannot guarantee the condition of the vehicle. If you experience any problems please notify us as soon as possible.