Genie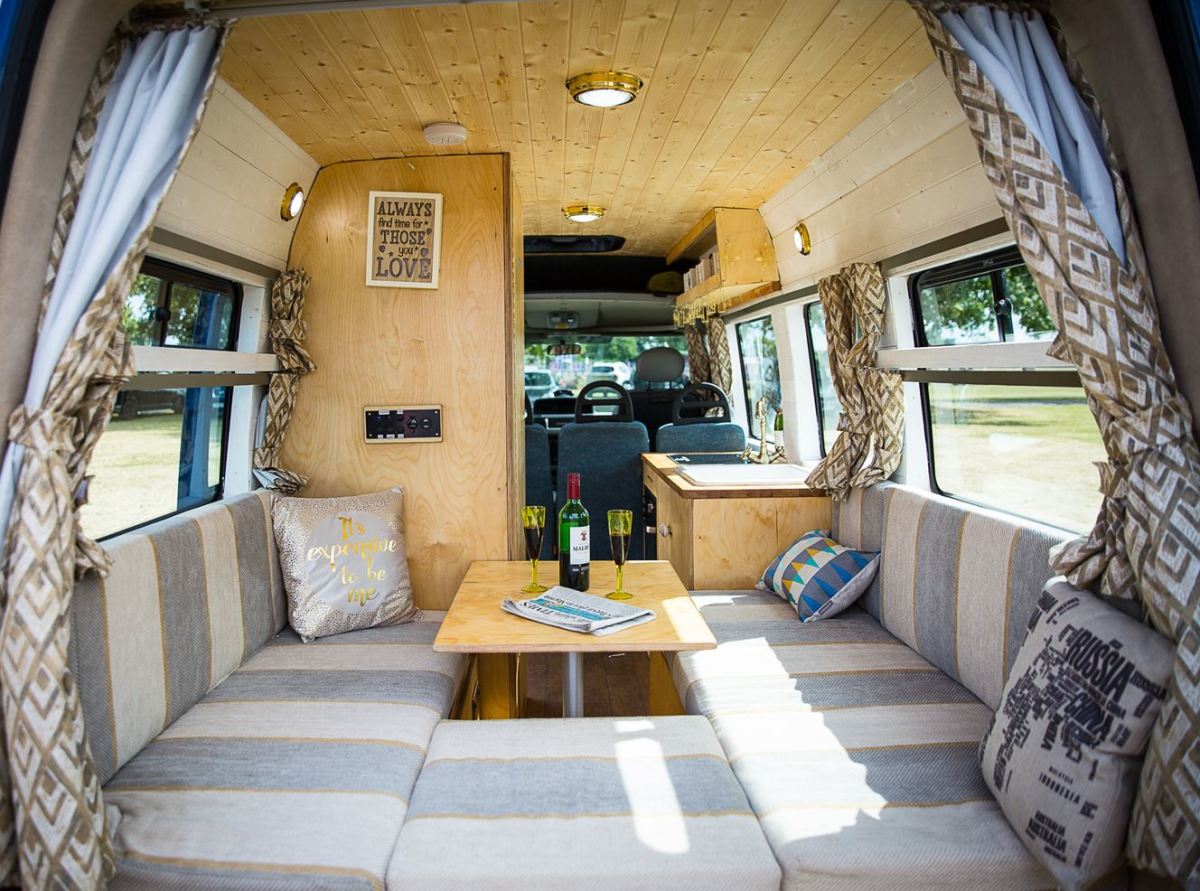 Studley
5 Belted seats 2 Adult beds 3 Child beds
Open Genie's sliding door and all your wishes will come true! Need enough space for the whole family? Genie will magic up 5 belted seats and two double beds. Don't fancy using the festival loos? Genie comes with shower and portable toilet. Fancy a winter adventure but don't like the cold? Well Genie has heating too. Genie has all the features of a motorhome but the style, comfort and beauty of a quirky camper. She's designed with families in mind but would also suit a group of friends, or stowaway the bunk and she's perfect for a couple. Her 3-sided seating area is perfect for lounging with a drink while gazing out at the view, or for family games when it rains, or delicious meals whipped up in the kitchen (which even has an oven). Surrounded by windows, you'll feel like you're in nature, but with all the comfort of a proper bed. But when you want privacy (or darkness) just pull the beautifully handmade curtains closed. The perfect family holiday no longer has to be a pipe dream, just conjure up Genie!
Essential Information
Hob
Heater
Oven
Refrigerator
Kitchen Sink
Inside Shower
Solar
Extra Storage
Pet Friendly
EU Travel Allowed
About the Campervan
Description of Beds: Double and double bunk

Description of Seating: Two front seats with M1 tested swivel bases. three second row coach seats, these are belted and tested from the donor minibus. Summary, 5 three point belted seats, all forward facing. Second row are designed for children so foot room is limited on the outside two seats. We all fit in them (6' adults) but not sure how far we would like to travel in them! This is designed for family, two up front, up to three out back. The center seat has more leg room so three adults would be no trouble.

About the area: Genie lives in Studley, B80 at our house, 10 minutes from junction 4 on the M42. There is local street parking available or we are happy to pick up from Redditch Train station. Due to limited driveway space we prefer not to take parked cars, we charge £5 per night if there is no other alternative.

Parking: Off street parking

Cooking Equipment: 6 cutlery set, 6 dining ware set, spatula, plastic spoon, can opener, three pans (small med large)

Water Facilities: 80ltr fresh, 10L water heater from gas or electric, 61 ltr grey waste, sink and shower

Audio Equipment: Standard radio in cab, bluetooth audio speaker for use in the rear.

Type of Heating: Diesel Heater

Conversion Story: The van was a super clean, low mileage minibus. I converted it myself this summer. Lots of high quality materials, Birch ply which has been treated with lots of Danish oil and Black Bison wax. Conversion took a couple of months flat out with nice light evenings so able to keep going until 10pm most nights.
When would you like to go?
Sorry, there was a problem...
Vehicle Spec
Vehicle Type: camper-van
Make: Renault
Model: Master
Year: 2003
Vehicle Length: 6 metres
Vehicle Height: 2.7 metres
Max Laden Weight (MAM): 3500 kg
Payload: 700 kg
Registration: emailed when you book
Note: The hire of this vehicle is arranged by Quirky Campers ltd acting as the agent on behalf of Genie's owners. We make every effort to ensure that all the vehicles listed with us are of a high standard but cannot guarantee the condition of the vehicle. If you experience any problems please notify us as soon as possible.