Emma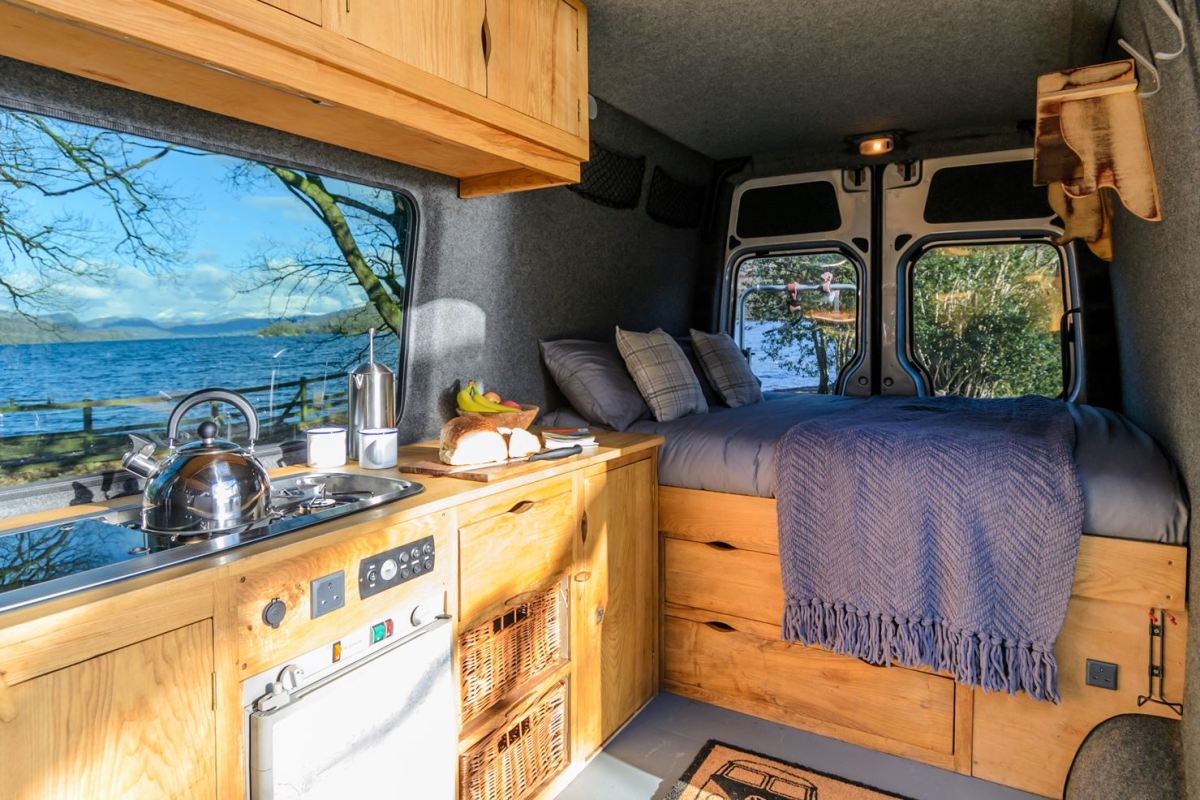 Lake District
3 Belted seats 2 Adult beds
If you are looking for Campervan hire in Cumbria, look no further than your perfect adventure companion Emma. Classy and cool, she has been brilliantly thought through to create a sense of spaciousness while being compact and easy to drive. Simplicity is everything with Emma. With a fixed bed there is no daily faffing to worry about. Her carpentry is perfectly simple - nothing extraneous, everything finished to perfection - it comes as no surprise that she was created by a master carpenter. She has an easily dismountable table inside or you can use the camping chairs and table provided for the full outdoor experience. With an instant awning, even the rain doesn't need to stand in your way. Based in Kendal in Cumbria, 'the gateway to the lake district' she has everything on her doorstep from stunning lake views to mountain road passes. With loads of storage, including a separate storage box for your muddy gear, and a permanent bike rack, she is ready and raring for adventure.
Essential Information
Hob
Refrigerator
Kitchen Sink
Extra Storage
Pet Friendly
About the Campervan
Description of Beds: Short Double bed (5'7" or 1.7m)

Description of Seating: The vehicle is equipped with a single driver's seat and a double passenger seat. All fitted with 3 point seat belts.

About the area: The Camper will be parked at Lakes Vehicle Centre, a local car garage, where you can leave your car on our car park whilst on your travels. We are located 5 minutes away from Kendal train station where transportation to our holding yard is provided. If preferred, we can collect you from Oxenholme main line station for an additional charge.

Parking: Off street parking

Cooking Equipment: The kitchen is equipped with the following:- 4 Cups | 4 Plates | 4 Dishes | 1 Frying Pan | 2 Pans | Kettle | Cutlery Set with 4 Knifes, 4 Forks and 4 Spoons | Kitchen Knives | Bottle Opener and Corkscrew | Chopping Board | Peeler | 2 Glasses | Tea Towel | Whisk | Spoon Set | Bin | Grater | Measuring Jug | Can Opener

Water Facilities: 10 Litre Portable Container with electric tap

Type of Heating: Emma's heating is electric and can only be run when connected to a 240v hook up which can be found in most campsites.

Conversion Story: The vehicle was born in the Lake District and started off as a works vehicle for a local tradesman. John Purcell is a carpenter renowned for his excellence in hand crafted furniture. He turned his passion for carpentry to his vehicle when he decided to convert his Crafter into a Camper Van. He used all locally sourced materials with the main kitchen and furniture being made from Ash from his neighbours' woodland. His aim with the camper van was to make it spacious and maximise every inch of space, which has been done to perfection. Mathew and Mike, two brothers-in-law, bought the Camper van to explore the lake district with their children. The name 'Emma' has been derived from their children's names Ellisa, Miley, Mace and Aliya.
When would you like to go?
Sorry, there was a problem...
Vehicle Spec
Vehicle Type: camper-van
Make: Volkswagen
Model: Crafter 2.5 TDI
Year: 2007
Vehicle Length: 6 metres
Vehicle Height: 2.7 metres
Max Laden Weight (MAM): 3500 kg
Payload: 1,400 kg
Transmission: manual
Fuel Type: diesel
Registration: emailed when you book
Note: The hire of this vehicle is arranged by Quirky Campers ltd acting as the agent on behalf of Emma's owners. We make every effort to ensure that all the vehicles listed with us are of a high standard but cannot guarantee the condition of the vehicle. If you experience any problems please notify us as soon as possible.